CoVa Magazine – Top Lawyers Notification
Mrs. Wood-Hanna has been recognized by her peers as well as by independent websites as one of the top divorce and family law attorneys in the area.
Elizabeth Wood-Hanna of Wood Hanna Law made our 2021 Top Lawyers list for Coastal Virginia Magazine and CoVaBIZ magazine.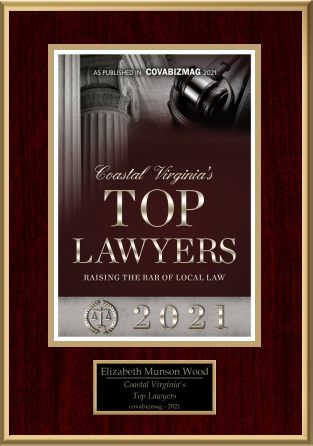 To create the Top Lawyers list, DataJoe Research facilitated a peer voting process. This year, DataJoe sent emails to lawyers throughout Coastal Virginia inviting them to vote using an online ballot. Each lawyer could vote for up to three lawyers in each category. DataJoe reviewed and processed each ballot individually, checking for patterns or signs of inconsistencies.
Mrs. Wood-Hanna's award was published in the January/February 2021 issue of Coastal Virginia Magazine.
---
Mrs. Wood-Hanna was chosen as one of the Top 15 Best Divorce Lawyers in Norfolk by Expertise.com.
Expertise.com: The selection process this website uses grades lawyers by availability, qualification, reputation, and experience. They first identify all the potential providers in a community; and use public databases and customer referrals to collect an exhaustive list of local businesses. Second, they validate each lawyer's qualifications and find providers who have gone above and beyond to educate themselves in their area of expertise. They scour public records and information to determine each provider's reputation. Every provider is analyzed based on the number of professional databases reviewing them, their average review score, and the volatility of their ratings. They finally select their finalists based on a provider's primary area of expertise, the variety of services they offer, and their years of experience. As you can see, Ms. Wood-Hanna was featured by expertise.com because she offers all of these values.
---

249 Central Park Ave | Suite 300 | Town Center | Virginia Beach